2019 Dodge Ram 1500 Preview in Edmonton, AB
The vehicle pictured above is the 2018 Dodge Ram 1500 with available features.
Our team is always up-to-date on the latest Dodge models and news, which is why we have prepared a preview of the 2019 Dodge Ram 1500. A quick glance at this pickup truck, and there is no question that you will be just as excited as we are. This pickup will have some new aspects and features, compared to previous models, and will leave you and onlookers in awe. With a redesigned exterior, advanced features, and a unique performance, the 2019 Ram 1500 will rule the roads. Contact or visit us at Londonderry Dodge, located at 13333 Fort Road NW. in Edmonton, AB, to learn more about this pickup.
The next generation of the Ram 1500 is likely to have lighter materials accompanying the usual steel, increasing the Ram's fuel economy and load capacity. The 2019 Ram 1500 will also have improved aerodynamics to help this pickup cut through the wind, thanks to the grilles that will supposedly be not quite as large as they currently are. Continuing with the exterior, it is projected that the huge Rebel tailgate letters may be replaced by the Ram logo, or smaller lettering, but there is without a doubt that the "big rig" styling will continue. Ram trucks since the mid 1990s have been distinguished by this aforementioned big-rig look that consisted of low mounted headlights, and a tall, proud grille. That look will be different as the headlights have been raised to the top of the grille opening, and the grille drops below the lights. Visit us to meet with a member of our staff and to take a closer at similar models.
When you think of a Dodge Ram, one of the first things that will cross your mind is power, and the 2019 Ram 1500 will continue that trend. The entry-level Ram 1500 will most likely boast six-speed automatic transmissions, while higher trims will be equipped with eight-speed transmissions. Under the hood, you will be surprised to see a direct injection gasoline V6 engine, the first Ram to posses such powertrain. The Pentastar upgrade with direct injection will have power ranging form 310-320 horsepower, and have a higher fuel rating and improved low-end torque. As for the 5.7L "Apache" Hemi engine, it will remain consistent with previous models, and Dodge will more than likely be running on stockpiled Hemis after 2018. But, there is possibility that the Ram 1500 offers an available turbo 5.7L motor, giving you potentially 392 horsepower.
We hope you are as excited as we are for the 2019 Dodge Ram 1500 preview in Edmonton, AB. For any questions or inquiries, make sure to visit us at Londonderry Dodge. We look forward to hearing from you!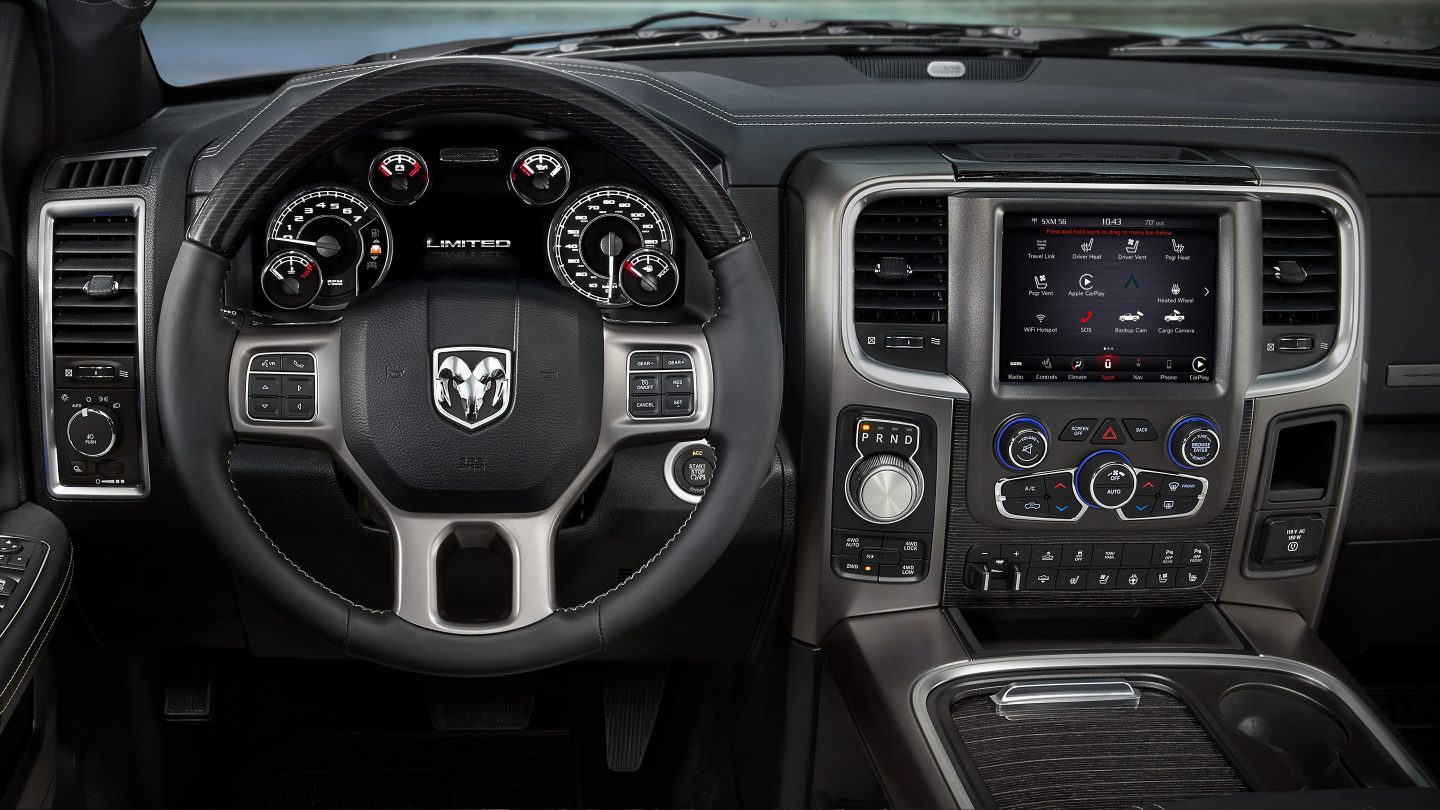 Sales Hours
587-497-0525
| | |
| --- | --- |
| Monday | 9:00 am - 9:00 pm |
| Tuesday | 9:00 am - 9:00 pm |
| Wednesday | 9:00 am - 9:00 pm |
| Thursday | 9:00 am - 9:00 pm |
| Friday | 9:00 am - 9:00 pm |
| Saturday | 9:00 am - 6:00 pm |
| Sunday | 11:00 am - 5:00 pm |
Testimonials
GOOGLE
7-11-2020
GOOGLE
7-11-2020
GOOGLE
7-10-2020
GOOGLE
7-9-2020
GOOGLE
7-9-2020
GOOGLE
7-9-2020
GOOGLE
7-8-2020
GOOGLE
7-5-2020
GOOGLE
7-5-2020
GOOGLE
7-5-2020
GOOGLE
7-4-2020
GOOGLE
7-3-2020
GOOGLE
7-3-2020
GOOGLE
7-3-2020
GOOGLE
7-2-2020
GOOGLE
7-2-2020
GOOGLE
6-30-2020
GOOGLE
6-28-2020
GOOGLE
6-28-2020
GOOGLE
6-27-2020
GOOGLE
6-27-2020
GOOGLE
6-27-2020
GOOGLE
6-26-2020
GOOGLE
6-25-2020
GOOGLE
6-24-2020
GOOGLE
6-24-2020
GOOGLE
6-23-2020
GOOGLE
6-22-2020
GOOGLE
6-22-2020
GOOGLE
6-21-2020
GOOGLE
6-20-2020
GOOGLE
6-19-2020
GOOGLE
6-19-2020
GOOGLE
6-18-2020
GOOGLE
6-18-2020
GOOGLE
6-17-2020
GOOGLE
6-17-2020
GOOGLE
6-17-2020
Read More